Our Rates: Four Gorillas Lodges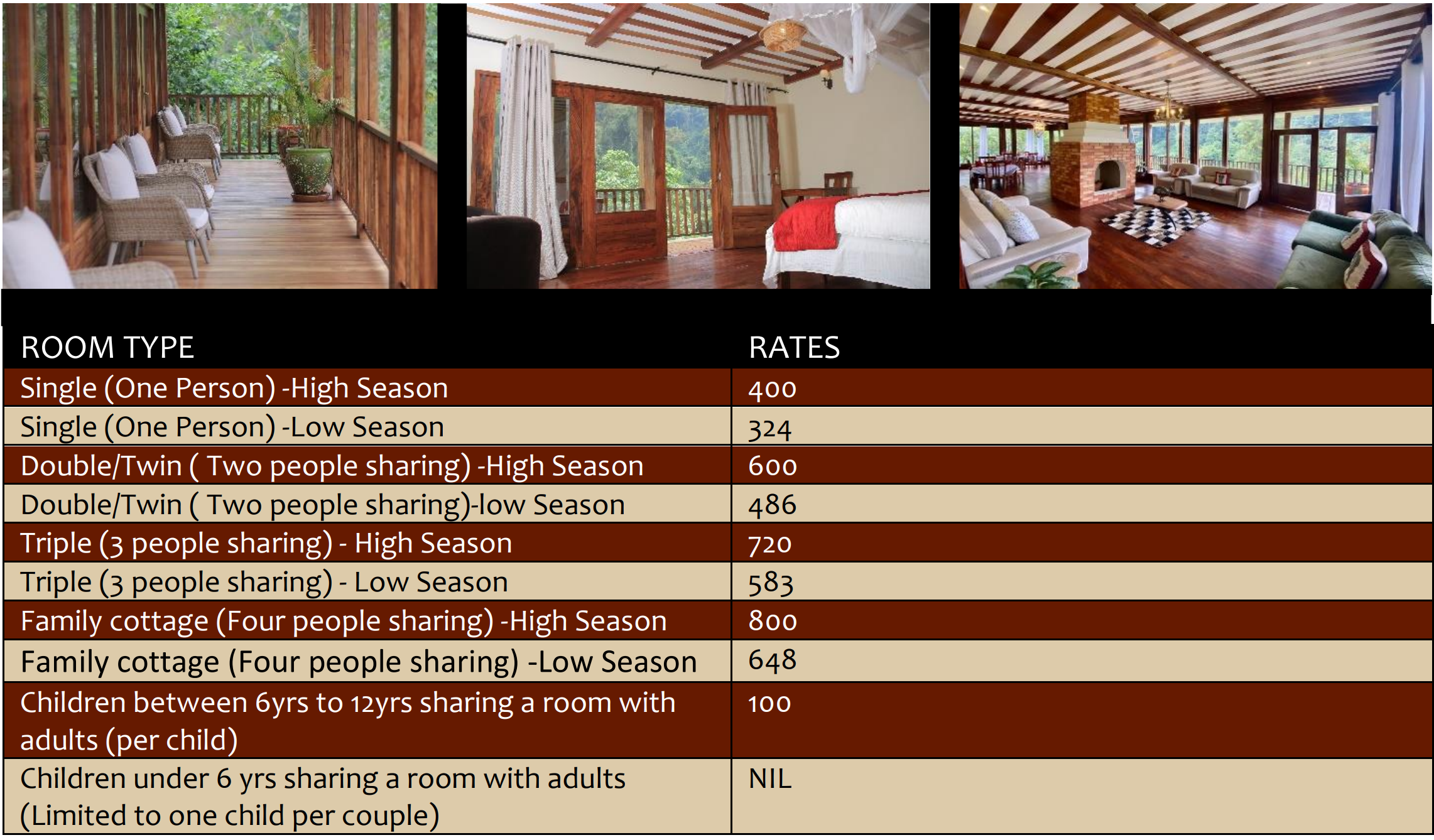 NB:
High Season rates apply for months January, February, July, August, September, and December.
Low season rates apply for months March, April, May, June, October, and November
The above rates are quoted in US Dollars, inclusive of LHT of $1 per room per night.
TRANSFERS:
USING 4X4 SUVs

PRIVATE VEHICLE TRANSFER RATES ARE VALID TILL DECEMBER 2022
4 Gorillas lodge to Kisoro airstrip = $150 (one way)
4Gorillas lodge to Rushaga tracking days ($100 round trip)
4Gorillas lodge to Nkuringo tracking ($ 150 round trip)
4Gorillas lodge to Nteko ($ 150)
TERMS AND CONDITIONS
Rates are subject to change in case of any statutory levy changes.
Rates will only apply if the bookings are made through our Reservation Office.
Please note that our full-board rates are inclusive of accommodation, breakfast, lunch, and dinner only per night.
All other incidentals (beverages/excursions) are charged on consumption.
GROUP BOOKINGS
For Group bookings for 10 paying guests and more at 4 gorillas lodge, we extend 1 (one) single room complimentary on room only basis. Complimentary room applies outside of peak periods (Festive Christmas, New Year and Easter)
Group full prepayment must be made 30 days prior to the check-in date. Festive & Easter Supplements
Festive season reservations require full deposit payment 30 days prior to guests staying at the Lodge with a minimum 2 nights stay. Peak Season refers to Easter Period, Festive season (Christmas & New Year's)
Tours leader's rates are offered on request if tour leaders' profile is provided.
PAYMENTS
All bookings must be paid in full 30 days prior to the arrival of clients. Any booking that fails to meet these criteria will automatically be cancelled.
Rates are quoted in US Dollars and payments can be made in US dollars or Ugandan Shillings at the current exchange rate on the day payments are made. Payments can be made in cash (Post 2009 US Dollar notes only), transfers to our bank account. Payments by cheque are only accepted for bank accounts held and operated in Uganda.
CANCELLATIONS
A non-refundable deposit of 20% of the booking value is required within 14 days for confirmation of the reservation or it is automatically cancelled thereafter.
Reservations that are cancelled, reduced in length of stay or reduced in numbers are (collectively known as cancellations) and are subject to cancellation and "no show" fees
14 days prior to the client arrival date will attract a 100% cancellation fee, however, a credit note can be extended when the reason for cancellation is given in writing.
RESERVATIONS
Check-in time is 12.00 pm and check-out time is 10.00 am unless otherwise agreed with lodge management
Additional activities (on a non-private basis unless pre-booked and paid for at private rates), meals, premium/special drinks and other services are taken at the lodge/camp will be charged for at ruling rates before departure from the establishment.
Easter and Christmas holiday period supplements are not included in the contract rates and are subject to confirmation when booking.
National Park Entry and other UWA fees are not included in rates and need to be paid separately.
East African resident rates are only applied with proof of residence validated on confirmation of reservation. Four gorillas lodge reserves the right to decide whether the proof is valid or not
4 Gorillas Lodge only acknowledges all cancellations or amendments in writing.
Final clients detail i.e., rooming and names are required in writing by 4 gorillas lodge 30 days prior to arrival.